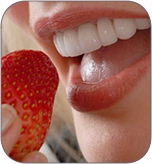 The advantages of using a veneer to restore a tooth are numerous. Very pleasing aesthetics can be obtained, with minimal to no tooth preparation. Many veneer procedures can be done with the use of little or no local anesthetic. Traditionally, a reduction of approximately 0.5 mm is required for a veneer.
Veneers may be used cosmetically to resurface teeth to make them appear straighter or merely to achieve a more aesthetically pleasing alignment. This may be a quick way to improve the appearance of misaligned teeth without need to use orthodontics. Stones Family Dental, in Salem Oregon, can help you find the veneer option right for you.
A veneer is a thin laminate, tooth shaped, piece of porcelain that is bonded to the front of your teeth to improve aesthetics and function. At Stones Family Dental, we used only the highest quality of labs to fabricate the desired beautiful results.
Reasons for veneers?
Crooked ore misshaped teeth
Gaps or spaces between teeth
Aesthetics- to achieve a more beautiful and youthful look
Restore teeth with deep unsightly stains
Contact Stones Family Dental, your local Salem dentist to make an appointment today!