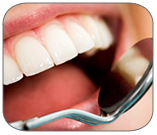 Where damage to a person's teeth is extreme, and apparently beyond repair, we can use all porcelain or porcelain "bonded to gold" crowns to make the smile and one's appearance very natural. These are extremely reliable materials for repairing the most severe of dental problems, offering a complete smile, and to establish a functional bite. Gold crowns can also be used when aesthetics are not a concern. Stones Family Dental can help you find the dental crown option that you need.
We are renowned for the quality of our work and the fantastic changes we make for people using this technology. These treatments are used for a long lasting correction of major dental problems.
In most other dental offices, fitting a crown normally requires at least two visits to the office and includes the discomfort of wearing an inconvenient temporary crown until the permanent crown is fitted. This process can take up to two full weeks or longer!
Introducing CEREC Technology! Why patients are choosing CEREC

At Stones Family Dental, we have invested in the latest technology to provide you a superior one-visit experience. CEREC is the world's foremost system for the fabrication of all ceramic dental restorations in a single office visit. With CEREC technology at Stones Family Dental you can be in and out in a single visit with a permanent, all ceramic crown, onlay or veneer!
Ask about this exciting technology at your next visit or call us anytime at (503) 581-9026.
*CEREC doesn't work for all cases and scenarios. As a result, some crowns will still be made with a two appointment process.
Offers support to misshapen teeth or badly broken teeth
Looks completely natural
Enhances smile
Restores functional chewing problems.
Replaces large failing fillings to aid in strengthening the tooth
What are the Capabilities of Crowns?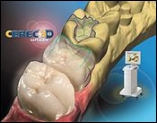 Crowns are a very reliable solution for major dental problems caused through accidents, diseases or wear and tear. Major problems can usually be corrected using this technique. Materials used in these repairs are either high grade porcelain, porcelain bonded to gold, or gold.
The higher strength of the porcelain and gold materials is recommended to treat the most serious of dental problems. A crown is a great long term solution for teeth that have severe wear, fractures or large failing fillings.
Many people have unexplained pain from filled back teeth, which have large older fillings. This is usually caused by fine hair line cracks on the chewing surface of the tooth. Placing crowns on these teeth relieves the pain and allows a return of full dental function. In front teeth, older fillings can both weaken the teeth and cause aesthetic problems due to staining or chipping. Porcelain crowns are suitable in cases where porcelain veneers are not. In teeth with root canal fillings, crowns can prevent the teeth from breaking. Contact Stones Family Dental, your local Salem dentist to make an appointment today!