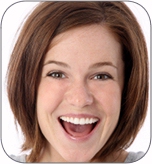 Stained, chipped, cracked, decayed, or misaligned teeth can detract from your smile. Dental bonding from Stones Family Dental, in Salem Oregon, can restore your smile's natural beauty quickly and predictably. During the procedure, damaged teeth are repaired and strengthened with thin coatings of plastic or resin. Bonded teeth are virtually indistinguishable from natural teeth. Contact our office today to find out if bonding is the best option for you.
Tooth-colored fillings are a safer and more attractive alternative to older silver amalgam fillings. The removal of silver amalgam can provide patients with white fillings that provide a more pleasing, silver-free smile. White fillings are made of composite resin and serve to fill cavities just like silver amalgam. However, these white fillings are matched to the color of your teeth and are virtually invisible.
When a new cavity needs filling, the vast majority of patients now choose tooth-colored composite fillings. Many patients also opt for the removal of their silver amalgam as well. These patients want to enhance their cosmetic appearance by ridding their mouths of unsightly silver and replacing with tooth-colored composite fillings. This simple procedure is an easy way to make a big difference in your smile. Contact Stones Family Dental, your local Salem dentist to make an appointment today!